MyGuinness

online services
We're really excited to be launching brand new online services for our customers in 2017. We're making it easier to manage what goes on in your home from anywhere at any time.
To start off, you can now view your rent statements, check your payments and contact us via your MyGuinness account.
Don't worry if  you're having trouble logging in at 11pm – that's just when we update our records. Pop back after 11.15pm to try again.
Register for or log into your MyGuinness account today
It's really easy to get started and any Guinness customer can set up an account.
You'll just need:
an email address
your full postcode
your payment reference number (which you'll find on your rent statement).
Register for a MyGuinness account or login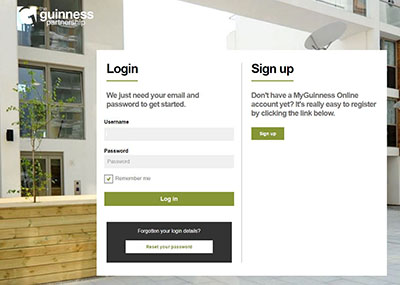 Former Wulvern customer? You should still log into your My Account on the Wulvern website.
Contacting us via MyGuinness
You can now contact us through your MyGuinness account to:
query your rent account or service charge
request an alteration or improvement to your home
find out if you're eligible for Right to Buy
request a payment card
buy, sell or buy more shares in your home
request a parking permit
report a noise or animal nuisance, fly-tipping, graffiti or an abandoned vehicle.
About our online services
Need any help registering? Read our MyGuinness frequently asked questions.
All MyGuinness account holders agree to our online services terms and conditions.
Our online services are best used on a computer. You'll need one of the following browsers for the best experience :
Chrome
Internet Explorer 11
Work in progress
If you spot anything that's not working for you, or you have any feedback, please contact us on 0303 123 1890, Monday to Saturday, 8am–8pm.
What else will I be able to do online?
This is just the start. We wanted customers to have online services as soon as possible. So we're launching new services in phases.
Sign up now and over the coming months you'll be able to report, book and track a repair and change your contact details and preferences easily.