We're here to improve people's lives – and create possibilities for them. We do this by providing as many high quality new homes as possible and the housing and care services our customers need most.
We do this by providing:
homes for social and affordable rent
affordable home ownership and outright sale
homes and care services for older people
support for customers who need extra help with issues like managing their money or getting into work.
Any profit we make is re-invested into our homes and improving services for our customers and communities.
In 2021/22 we:
delivered 410 new homes across England
reduced rent arrears to 3.67%
invested £143.1 million in maintaining, improving and repairing our existing homes
helped our customers claim an additional £13.9m in benefits
You can read about our achievements during 2021/22 in our Residents' Report.
Being transparent about our performance
Every three months we update our progress on improving our performance. We're encouraging you to tell us how you think we're doing, as well as give us ideas about how else we can really improve.
These key results give you more clarity about what you should hold us accountable for, so that together we can create an honest, transparent relationship.
So we can also be clear about the impact of our work to improve our performance, we also compare our results to the previous quarter.
Here you can see how our January – March 2023 results compare to what we achieved in the previous quarter: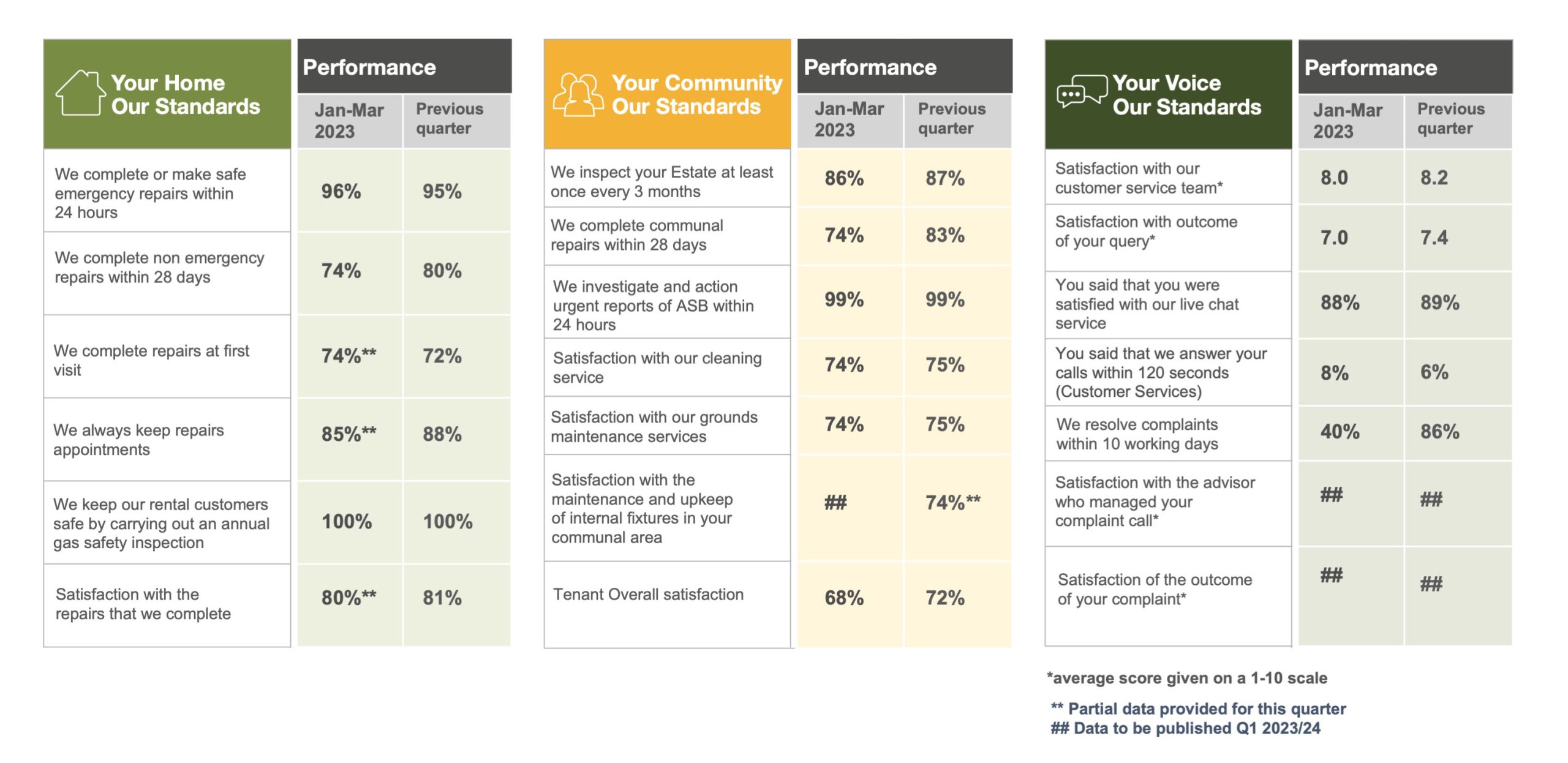 Customer complaints
We want every customer to feel that we are transparent in how we treat them and the way we do things. When we deliver our services, if we get something wrong we encourage you to tell us so we can put it right and do better next time.
Tell us what you think
If you have an idea about how we can provide better services or improve the way we do things, let us know.
Guinness has a dedicated Customer Experience team. Their role is to understand and champion the voice of our customers through customer consultations, monthly satisfaction surveys and identify the root causes of customer complaints to help us improve. They also link this with local knowledge of our neighbourhoods to provide context about issues such as crime, health, and poverty in the areas we operate.
Based on what our customers tell us, the Customer Experience team works with others across Guinness to identify and agree ways we can make our services better and improve our customers' experience.
We've created several initiatives that help tackle key issues in areas we've received the most complaints or negative feedback. The effect of these initiatives has been a reduction in complaints and an improvement in how we deliver our services to affected customers.
The focus of each initiative has been very different: in one case, we improved the general condition of the development and its surroundings; in another, we focussed on security; in another we replaced an outdated communal boiler system.
Monitoring our performance
We report on our performance across all services including complaints and customer feedback to our board and committees.
We share our operational insight with our Senior Management Team on a monthly basis.
We seek customer feedback from the start of each customer journey through to final outcome. Our surveys help us understand each customer transaction, for example a repair or a re-let, quickly after completion, with "hot alerts" being sent to management in the relevant area if the customer considers the service unsatisfactory or unresolved. This information is used to identify areas for continuous improvement, identify issues themes and trends.
What we share with our residents
Our Service standards are published on our website every quarter.
Updates and feedback on our performance are included in our customer magazine. Local updates with our Resident groups and in our latest operational information in our Annual Resident report. In addition to this we also publish our results in external industry reports.
Our complaints service is regularly assessed by an independent third party, and monthly reports on our performance are provided to our Executive Team to ensure we meet the high standards we set for ourselves.
Our awards