Friends Against Scams
In May 2020, we launched a new partnership with Friends Against Scams, a National Trading Standards Scams Team initiative which aims to protect and prevent people from becoming victims of scams.
What is a scam?
A scam is defined as a crime where someone tries to trick a victim into giving them money or personal information either through the post, on the phone, online or even on their own doorstep (something which is particularly rife right now).
Scam artists tend to prey on vulnerable adults, with statistics showing that 53% of people aged 65+ have been targeted, with the average age of those falling victim to scams being 75.
"The tactics used by criminals often leave victims socially isolated and ashamed of telling their friends and families what's really going on behind closed doors. Scams affect millions of people across the UK and cost consumers an estimated £5-10 billion of detriment each year. Scams are a pervasive, criminal threat, which in addition to the financial damage can also cause detrimental, long-term psychological effects and ultimately destroy lives", says Louise Baxter, Team Manager, National Trading Standards Scams Team.
During the coronavirus pandemic people are warned to be particularly aware of people offering or selling the following:
Virus testing kits – these are only offered by the NHS
Vaccines or miracle cures
Overpriced or fake goods to protect yourself from coronavirus such as anti-bacterial products
Shopping or medication collection services
Home decontamination services
How we're helping to protect our customers
Guinness has a duty of care to help prevent and identify scams, and protect our customers from becoming victims of scams. 95% of victims feel too embarrassed to speak up and report these crimes – so it's our job to empower our customers and colleagues to take a stand against scams. We now have over 500 colleagues across Guinness who are trained to support our customers, to help prevent them from becoming victims of scams. With many Covid-19 restrictions eased, our teams are now able to reintroduce this same training to our customers, helping to give them the confidence to identify and report scam activity.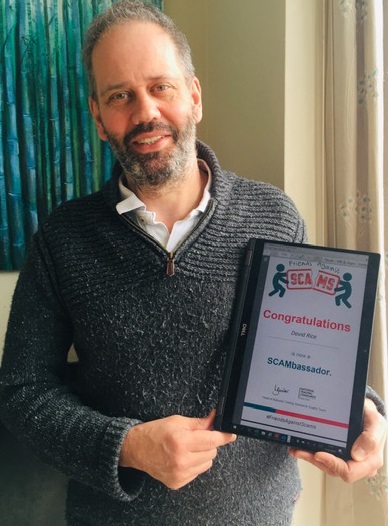 Our SCAMbassador and Business Development Director, David Rice, said: "A few years ago, my parents were scammed, and I was horrified to see the impact this had on them on so many different levels. It was bad enough that someone had persuaded them out of money, but it was worse to see how the incident affected their confidence. Our partnership with Friends Against Scams is a positive step to combatting scammers and helping to make our communities safer."
Safetember 2020
In September 2020, we launched Safetember; an annual campaign to raise awareness of safety for our customers. The 2020 theme was on financial awareness, and supported our partnership with Friends Against Scams. The campaign was a great success: we had excellent attendance across SCAMChampion coaching sessions, hosted a 'saying no with confidence' webinar with Friends Against Scams, raised awareness amongst our residents, and reached 60% of our Friends Against Scams training target.
Scamnesty 2020
Our partners at Friends Against Scams ran a Scamnesty (a scam mail amnesty) campaign throughout December 2020, encouraging everyone in the UK to have a chat with loved ones about scams and to send in any scam or unwanted mail to the team free of charge. We supported the campaign by sharing it with our colleagues, customers and communities. You can find out more by visiting the Scamnesty website here.
For more information on Friends Against Scams please visit their website.