Leaside Lock, Bromley-by-Bow

These new homes in Bromley-by-Bow, East London form part of the most important regeneration schemes in East London since the Olympics.

About these homes
Location

Leaside Lock, Bromley-by-Bow

Architect

Pitman Tozer, PRP

Number of homes

965

Tenure of homes

Shared Ownership
Affordable Rent
Outright Sale

Completed

2022
Close to Bromley-by-Bow tube station, in a major East London regeneration area we are building 965 new homes, 50% of which will be affordable housing. The project will also include workspaces, retail and leisure space, enabling Guinness to create a vibrant new neighbourhood.
The development at Bromley-by-Bow is in the Greater London Authorities' Stratford Opportunity Area.
Leaside Lock is being delivered in three phases. Almost half of Phase One is now complete with three of the first five blocks (232 apartments)  now  finished. The phased handover of the remaining 268 apartments in Phase 1 is to complete in early 2023.
Phase Two is well underway and is also due for completion in 2023.
Works to replace the river wall and improve flood defences were completed in February 2022, allowing Phase 3 to proceed. This final phase of the development commenced in August 2022. Phase 3 should  see the completion of the final 321 homes at Leaside Lock, by early 2025.
Not only will we provide many affordable homes to Bromley-by-Bow, we are also investing in infrastructure across the local area, including:
A new urban square and park for the local community
Opening up and improving the A12 underpass, which will significantly benefit connectivity
Internal amenity space, which may include: workspaces, casual seating areas, games, bookable spaces, studio, etc
Improved public realm and landscaping
Moving in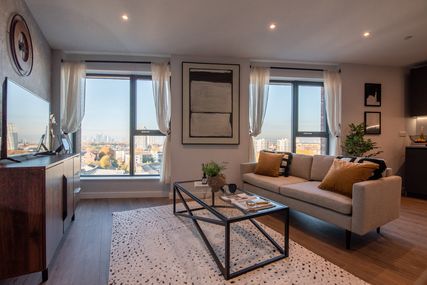 The first residents have moved into Leaside Lock and say it has lived up to their expectations.
David Sheehan who has a one-bed flat, was the first Guinness customer to move in at the end of February 2022.  The deputy headteacher said shared ownership gave him the opportunity to live in the perfect location, somewhere that has felt like home to him for years.
"I thought I could buy freehold elsewhere, but that would have meant buying a home in the middle of nowhere which needed a lot of work doing to it.
"This way I get to own a quarter of a property I really like, as I see my flat in Leaside Lock as somewhere I want to live as long as I'm in London.
I really get the sense that Guinness are helping create a community here, that they care. They don't just want to take rent and forget about you. For example, I've found they had upgraded the intercom system since I had last visited. They didn't have to do that. I had already bought the flat."
If you're interested in buying your own home at Leaside Lock, take a look the dedicated sales site: https://leasidelock.com/
Start of the project
In April 2019, we kick-started this regeneration project with a controlled demolition of the site. We were happy to be joined by guests from the Spotlight Youth Centre, a free creative youth service based in the local community. We were also joined by representatives from the Greater London Authority, housing association Poplar HARCA, London Borough of Tower Hamlets, Councillor for Tower Hamlets, Dan Tomlinson and the London Legacy Development Corporation (LLDC). Everyone came together to celebrate the start of an exciting new project, which will provide much-needed affordable housing for the people of Tower Hamlets.
For more information about that day, check out our news article.
Here's a selection of photos from that day…