We know it's a challenging time for everyone at the moment and that sometimes the essentials in life, like food, can take a back seat when you're struggling financially.
This page has information about food banks and food pantries across the country that help to serve those who may need extra help in some of the communities where we have properties.
Below you'll be able to find out the difference between food banks and food pantries, what each can offer and where you can find them, should you need them.
Food pantries that Guinness supports
We support food pantries in the following areas:
Sheffield Park Centre, Sheffield
St Giles Food Pantry, Kensington, London
Lucie's Food Pantry, Salford
The Community Pantry, Cheltenham
Chance Changing Lives, Crewe
Munch Pantry, Havant
Hackney, London
Stamford Hill, London
Other food pantries
Food pantries are a weekly support network through a membership scheme that provides a longer term option to food banks, which are only able to provide short term, occasional support to families suffering from food poverty.
Food pantries supply frozen, refrigerated and fresh food – items that short-term food banks are unable to provide – like fruit and fresh vegetables. As a result, users of a pantry may sometimes need to live within a certain distance of the centre or be able to travel home within a certain amount of time to ensure the food can be refrigerated quickly enough for it to remain safely edible. If this is the case, it will be made clear to you when applying to become a member of a food pantry.
If you think you may need help from a food pantry, you can find your closest one here.
Food banks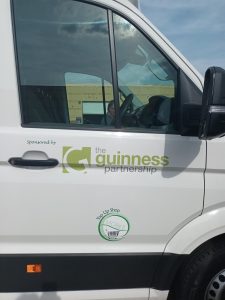 A food bank is a place where donated food is given out to those who need it in a crisis. Food banks are often set up in places like community centres and churches, run by volunteers.
Our six-month partnership with The Trussell Trust, the fastest-growing UK food bank network, was a big part of our Food Sense campaign in 2016. As well as sharing information about healthy eating and food banks, we supported the charity with funding and food collections.
They have an ambitious goal to "end hunger and poverty in the UK".
Milton Keynes mobile food bank
We also partnered with Milton Keynes food bank (and others) to provide an affordable food project for customers and the wider community experiencing food poverty via a mobile platform. This launched in October 2022.
If you think you might need help from a food bank, please read our guide to using food banks.