Guinness's Annual Report for Residents 2020/21

28 September 2021
We have published our Annual Report for Residents for 2020/21.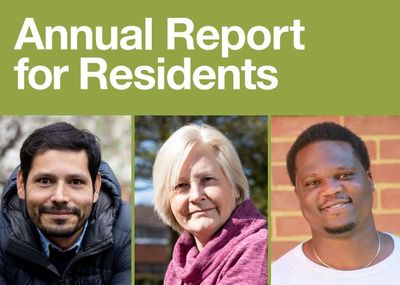 It sets out how Guinness performed on a wide range of issues including repairs, customer support, complaint handling and how we use our income.
It also includes our response to coronavirus. Over the last year the support we provide has become more important than ever, our teams have worked hard to support our customers and communities and we have:
Invested £200,000 into a hardship fund which has supported 996 residents with things like food, gas and electricity
Supported the reduction and prevention of domestic abuse
Partnered with Rebel Business School to provide online training sessions
Partnered with Tutors United to provide online maths and English tutoring for 172 children
Supported Bring Dementia Out
Supported Talk Listen change to provide free mental resilience support and counselling to residents
Trained over 500 staff to spot scams and support affected residents
This edition, for the first time, shows for each region both how we have done and how satisfied our customers are. It says how we are engaging and listening to tenants and residents to improve what we do, and how you can get involved.
Read the full report here.