The Aspire Awards
Over the last eight years we've given more than 400 Aspire Award grants to help pay for education courses, training and equipment and support start-up businesses. The grants have helped our customers to achieve their dreams, further their careers and progress their talents.
Read more about previous Aspire Award winners, from University nursing student, Naomi, to aspiring Olympic athlete, Ahmed.
**Aspire Award applications are now OPEN**
The Aspire Awards are open for applications from 15 May to 31 July 2023. 
The awards are judged and granted once a year with funding available under four different categories.
Please note the applications will be judged in August, after the closing date of 31 July 2023 and the decisions will be announced around September 2023.
Please make sure you study the application requirements and terms & conditions before submitting your applications. It's highly advised to fully answer each question in order to submit a robust and comprehensive application. To help you achieve the best outcome, we have put together 7 Top Tips for completing your application and Frequently Asked Questions.
Good luck with your application!
Please note: Our Aspire Awards are open to Guinness customers or service users that have held a tenancy or received a service from us for over 6 months.
You'll need to let us know exactly what you want the funding for, so make sure you've found the course you want to complete or how much the equipment you need will cost.
Additional guidance
We've put together 7 top tips for completing your Aspire Awards application. 
Please click here to read the 7 top tips for completing your Aspire Awards application.
If you have any questions, please see our frequently asked questions.
Please click here to see our Frequently Asked Questions.
What we fund and What we don't fund
Take a look below for a quick guide on what the Aspire Awards do and do not cover.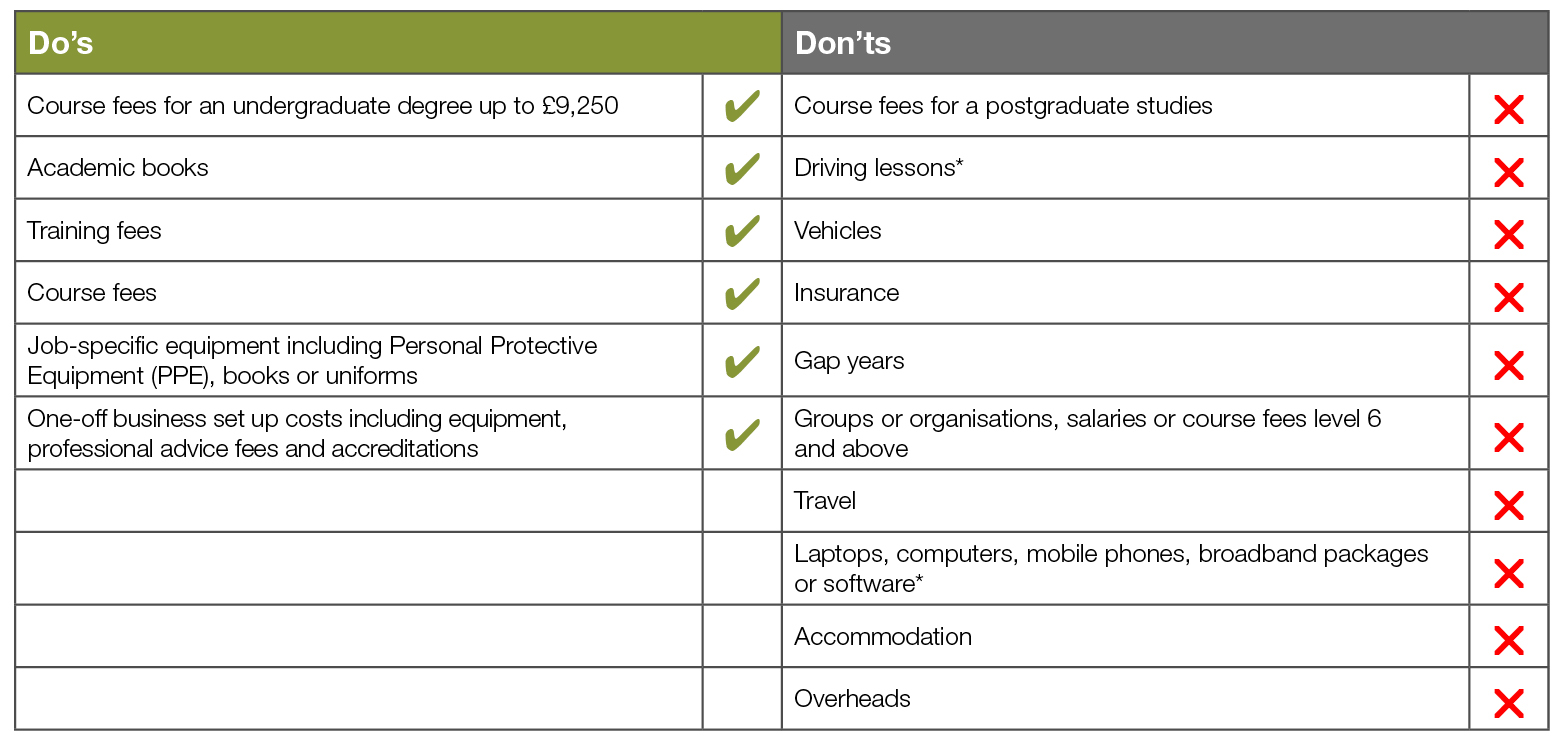 * for exceptional circumstances only
Any questions?
If you still have any further questions about the Aspire Awards please get in touch by clicking the button below.